Recipes for Bread
There's nothing quite like the enticing aroma of homemade bread baking in the oven — it's the next best thing to eating it!
Select and explore our bread recipe collections below the featured recipes: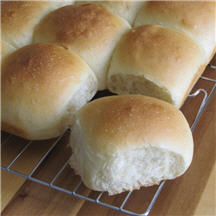 Recipe:
Best Butter Rolls Ever
These are simply the best homemade dinner rolls ever! Go ahead, make a batch and serve them to your family—they'll agree!
Recipe:
Classic Cranberry Nut Bread
This moist, delicious quick bread boasts the traditonal flavors of fall and winter. An ideal quick bread to serve during the holidays and/or give as gifts.
Recipes by Type:
Specialty Recipes:
Muffin Recipes:
World Cuisine Recipes: