Recipes for Bread
There's nothing quite like the enticing aroma of homemade bread baking in the oven — it's the next best thing to eating it!
Select and explore our bread recipe collections below the featured recipes:
Recipe:
Crusty French Bread with Garlic
Love at first bite! This comforting loaf of homemade French bread has a crunchy outer crust and a moist, tender inner crumb fragrant with garlic.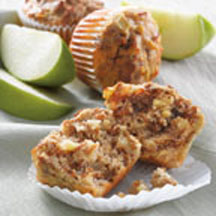 Recipe:
Apple Bran Muffins
A healthy and delicious snack. These muffins make a great everyday breakfast or lunchbox treat.
Recipes by Type:
Specialty Recipes:
Muffin Recipes:
World Cuisine Recipes: