Recipes for Breakfast & Brunch
Fuel up and start the day off right with the first and most important meal of the day!
Recipe:
Buckwheat Pancakes
Begin a cold morning with a hearty breakfast of buckwheat pancakes and you're fortified to start the day.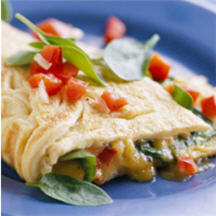 Recipe:
Spinach and Cheese Omelet
This deliciously satisfying omelet filled with spinach, cheese and a tasty red pepper relish, is a great entrée served anytime of the day.