Recipes for Breakfast & Brunch
Fuel up and start the day off right with the first and most important meal of the day!
Select and explore our breakfast and brunch recipe collections below the featured recipes:
Recipe:
Potato Bacon Casserole
Tender hash browns and succulent bacon pieces are at the heart of this hearty potato dish. A crowd-pleaser at brunch or any meal.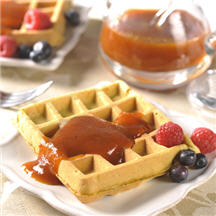 Recipe:
Nutty Pumpkin Waffles
Chock full of nuts these pumpkin waffles are a must-bake for the holidays. Moist and light they're fun and tasty for breakfast drenched with pumpkin maple sauce.
Recipes by Type:
Egg Recipes:
Pancake Recipes:
Specialty Recipes:
World Cuisine Recipes: