Fresh Fruit Sundae Snack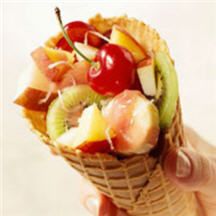 Cut-up fruit is served in waffle cones topped with puréed strawberries.
Recipe Ingredients:
3/4 cup cut-up strawberries
1 1/4 cups cut-up assorted fruit (such as apples, bananas, cherries, seedless red grapes, kiwi fruit, and/or peaches)
2 large waffle cones
1 tablespoon finely shredded, peeled jicama (optional)

Cooking Directions:
Place the strawberries in a blender container. Cover and blend until smooth.

In a medium bowl gently stir together the cut-up assorted fruit. Spoon into the waffle cones.
Drizzle with the puréed strawberries. If desired, top with jicama.

Makes 2 servings.
Nutritional Information Per Serving (1/2 of recipe): calories: 157, total fat: 2g, saturated fat: 1g, monounsaturated fat: 0g, polyunsaturated fat: 0g, cholesterol: 0mg, sodium: 36mg, carbohydrate: 34g, total sugar: 19g, fiber: 3g, protein: 2g, vitamin A: 0%, vitamin C: 58%, calcium: 2%, iron: 4%, fruit: 1diabetic exchange, other carb: 1 diabetic exchange, fat: .5 diabetic exchange
Recipe and photograph provided by Better Homes and Gardens - BHG.com a member of the Home and Family Network for the best of cooking, gardening, decorating and more. © 2003 Meredith Corporation. All Rights Reserved.