House-Cured Tuna with Wisconsin Brick Cheese
Spread 'Ice Cream', Baby Butter Lettuce and Sherry Vinaigrette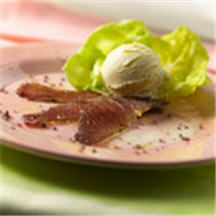 An elegant first course. Recipe by Chef Guillermo Pernot.
Recipe Ingredients:
For the Tuna:
1 cup gray sea salt
1 cup granulated sugar
3 tablespoons chopped fresh thyme leaves
3 tablespoons chopped fresh rosemary
1 pound big eye tuna
For the Ice Cream:
1 cup half-and-half
1 cup milk
4 large egg yolks, beaten
6 ounces Wisconsin Widmer's Brick Cheese Spread
1 pound baby butter lettuce
3 tablespoons extra virgin olive oil
2 tablespoons aged sherry vinegar
Pink sea salt
Cooking Directions:
For Tuna: In mixing bowl, mix gray sea salt, sugar, thyme and rosemary. Roll tuna in mixture, coating well; place in perforated pan and refrigerate 2 days. Remove from pan, tie with butcher string, and hang in refrigerator 1 week.
For Ice Cream: In saucepan, heat half-and-half and milk almost to boiling point. Whisk 1 cup hot milk mixture into yolks, whisking constantly. Whisk back into remaining milk in pan. Cook over low heat, stirring constantly, just until the mixture thickens. Do not let boil. Cool until warm and whisk in Brick cheese spread. Chill and transfer to ice cream maker. Freeze in ice cream maker according to manufacturer's directions.
For Final Preparation: Slice tuna thinly (12 slices). Arrange 2 slices on each of 6 plates. Rub tuna with a small amount of olive oil.
In large bowl, toss lettuce with remaining olive oil, vinegar and pink sea salt to taste. Arrange lettuce over tuna. Garnish with a scoop of ice cream.
Makes 6 servings.
Recipe and photograph provided courtesy of Wisconsin Milk Marketing Board, Inc.