Motoring Munchies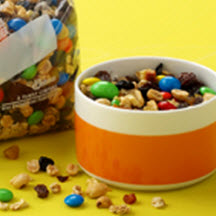 "Packed with peanuts, dried fruit and other goodies, handfuls of this sweet snack will make kids happy on long car rides as well as at school." - Nancy Schlinger of Middleport, New York.
Recipe Ingredients:
1 (18-ounce) package granola without raisins
1 (12-ounce) can salted peanuts
1 (15-ounce) package raisins
1 (14-ounce) package milk chocolate M&M's
1 (14-ounce) package peanut M&M's
2 (7-ounce) packages mixed dried fruit
Cooking Directions:
In a large bowl, combine all the ingredients. Store in a Ziploc® Brand Slider Gallon Bag.
Makes 3 quarts.
Recipe and photograph provided courtesy of Ziploc® Brand, the food and home storage solutions families trust, and Taste of Home, the world's No. 1 cooking magazine; through ECES, Inc., Electronic Color Editorial Services.