Savory Snacktime Mix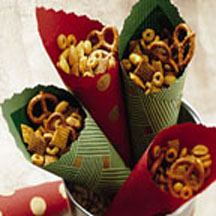 Don't wait for a party, this simple snack mix is a hit anytime!
Recipe Ingredients:
2 cups Cheerios® cereal
2 cups Chex® cereal (any variety)
2 cups pretzels
1 cup peanuts
1/4 cup butter or margarine, melted
1 tablespoon Worcestershire sauce
1 teaspoon paprika
1/2 teaspoon garlic salt
Cooking Directions:
Heat oven to 275°F (135°C). In ungreased 13x9-inch pan, mix cereals, pretzels and peanuts.

In small bowl, mix remaining ingredients. Pour over cereal mixture, stirring until evenly coated.

Bake 30 minutes, stirring occasionally. Spread on paper towels to cool, about 15 minutes. Store in airtight container up to 1 week.
Makes 15 (1/2 cup) servings.
Tips:
Colorful paper cups make great holders for snack mixes. Look for them at paper and discount stores.

For easy eating at a cocktail party, serve this snack mix in colorful paper cones. Make the cones by rolling 7-inch squares of medium-weight colored paper into cone shapes and securing with tape. To keep the cones upright, spread a layer of uncooked dried beans in the bottom of the serving container, then nestle the filled paper cones in the beans.
Recipe and photograph provided courtesy of www.chex.com, through ECES, Inc., Electronic Color Editorial Services.