Wine-Tarragon Fondue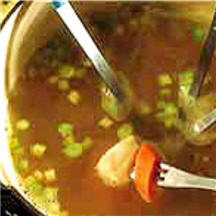 Fondue can turn any occasion into a party! When everyone gathers around the fondue pot -- the conversation and fun begins! Tip: Partially cook the vegetables for easy spearing.
Recipe Ingredients:
1 pound skinless, boneless chicken breasts
2 medium carrots, bias-sliced into 1/2-inch pieces
2 cups cauliflower flowerets
1 medium zucchini, cut into 1/4-inch slices
2 cups dry white wine
2 cups chicken broth
2 tablespoons sliced green onion
1 tablespoon snipped fresh tarragon or 1 teaspoon dried tarragon, crushed
Tarragon Dipping Sauce (recipe follows)
Cooking Directions:
Cut chicken into bite-size pieces. Cover and chill up to 4 hours. In a medium saucepan cook carrots in a small amount of boiling salted water for 5 minutes. Add cauliflower; cook for 2 minutes more. Drain, cover, and chill.
To serve, prepare dipping sauce; set aside. On a serving platter arrange chicken, carrots, cauliflower, and zucchini.
In a fondue pot combine wine, broth, green onion, and tarragon. Bring to a gentle boil. Spear pieces of chicken and vegetables with fondue forks; dip into bubbling broth. Cook vegetables for 1 to 2 minutes and chicken for 2 to 3 minutes or until no longer pink. (To maintain the temperature, don't add too many pieces of food to the broth at one time.) Dip cooked chicken and vegetables into sauce.
Makes 8 appetizer servings.
Tarragon Dipping Sauce: In a small, heavy saucepan prepare 1 (0.9-ounce) envelope hollandaise sauce mix according to package directions. Remove from heat; stir in 2 tablespoons dry white wine and 2 teaspoons snipped fresh tarragon or 1/2 teaspoon dried tarragon, crushed. Cool for 10 to 15 minutes. In a small mixing bowl fold hollandaise sauce into 1/2 cup plain yogurt. Serve at room temperature. Makes about 2 cups.
Nutritional Information Per Serving (1/8 of recipe): calories: 121, total fat: 3g, saturated fat: 1g, cholesterol: 37mg, sodium: 161mg, carbohydrate: 7g, fiber: 2g, protein: 16g, vitamin A: 65%, vitamin C: 37%, calcium: 7%, iron: 5%
Recipe provided by Better Homes and Gardens - BHG.com a member of the Home and Family Network for the best of cooking, gardening, decorating and more. ©2003 Meredith Corporation. All Rights Reserved.