Honey Fig Bars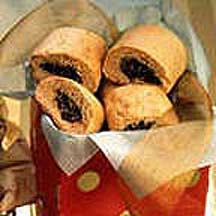 If you love fig cookies, these honey-sweetened homemade fig bars are sure to delight.
Recipe Ingredients:
1 1/4 cups honey - divided use
1/2 cup butter or margarine, softened
1 large egg
1 cup all-purpose flour
2 cups whole wheat flour
1 teaspoon baking powder
1/2 teaspoon baking soda
1 pound dried figs
2 tablespoons lemon juice
2 teaspoons grated lemon peel
Cooking Directions:
In medium bowl, cream 3/4 cup honey with butter until light and fluffy. Beat in egg. Add both flours, baking powder and baking soda; mix until combined. Wrap dough in plastic wrap and freeze until firm (about 2 hours) or refrigerate overnight.
Meanwhile, in food processor with metal blade, place remaining 1/2 cup honey, figs, lemon juice and lemon peel. Process until figs are finely chopped. Set aside.
When dough is well chilled, dust work surface and dough with flour. Working quickly, roll dough to 1/4-inch thick. With sharp knife, trim dough into two 12x3-inch rectangles. (Dough trimmings can be used to make cut-out cookies.)
Spread half of fig mixture evenly down center of one rectangle. Gently fold right side of rectangle over filling, then fold left side over right so they overlap. Pinch ends to seal. Repeat with remaining rectangle and fig mixture. Carefully place logs seam-side down on greased baking sheet.
Bake at 350°F (175°C) for 15 minutes, until lightly browned. Remove sheet from oven; allow logs to cool 5 minutes on sheet. Transfer to wire rack; cool completely. Cut into 2-inch bars.
Makes 16 bars.
Nutritional Information Per Serving (1/16 of recipe): 288 Calories * 6.76 g Fat Total * 4.27 g Protein * 28.8 mg Cholesterol * 57.5 g Carbohydrates * 130 mg Sodium * 4.72 g Dietary Fiber * 20% Calories from Fat *
Recipe and photgraph courtesy of the National Honey Board.