Walnut Blondies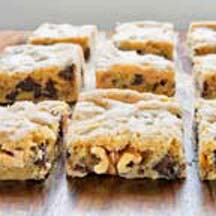 "At the end of a long day, you will not be able to have just one of these blondies. The combination of gooey chocolate and crunchy walnuts makes this treat irresistible!" - Recipe submitted by Emily Luchetti.
Recipe Ingredients:
10 tablespoons unsalted butter, softened
1/2 cup firmly packed light brown sugar
1/2 cup granulated sugar
1 large egg
1 teaspoon vanilla extract
1 1/4 cups unbleached all-purpose flour
3/4 teaspoon baking powder
1/4 teaspoon kosher salt
1 cup coarsely chopped walnuts
3/4 cup chocolate chips
Cooking Directions:
Preheat oven to 350°F (175°C).
Grease a 9-inch square baking pan with non-stick cooking spray, coat the pan evenly with flour, and knock out the excess.
Beat the butter and sugars together until smooth. Mix in the egg and the vanilla extract. Add the flour, baking powder, and salt and stir until everything is evenly blended. Stir in the walnuts and chocolate chips.
Turn the batter out into the prepared pan and spread it out evenly with a spatula. (You can also place a piece of plastic wrap on top of the dough and press it evenly into the pan.)
Bake until a toothpick inserted into the center of the batter (and not a chocolate chip) comes out clean, about 25 minutes. The top will be golden brown.
Let cool to room temperature then cut it in the pan into 16 (2-inch) squares.
Makes 16 blondies.
Recipe and photograph provided courtesy of California Walnuts.