Herbed Beef in Salt Crust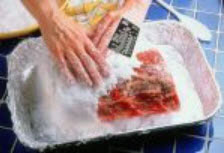 This recipe for herbed beef in salt crust is one of the most requested recipes.
Recipe Ingredients:
1 (2 1/2 to 3-pound) eye of round roast
1/3 cup olive oil
1/4 cup grated onion
1 teaspoon garlic salt
1 teaspoon dried basil leaves
1/2 teaspoon dried marjoram leaves
1/2 teaspoon dried thyme leaves
1/4 teaspoon ground black pepper
1 box kosher salt (3 pounds)
1 1/4 cups water
Cooking Directions:
Combine oil, onion and seasonings in heavy plastic bag; mix well.
Add roast; coat well with marinade and refrigerate 2 hours to overnight.
Preheat oven to 350°F (175°C). Line roasting pan with aluminum foil.
Combine kosher salt and water to form a thick paste. Pat 1 cup of paste into a 1/2-inch thick rectangle in foil lined pan. Place roast atop salt layer and pat remaining paste over top and sides, sealing roast completely.
Bake in a preheated oven at 350°F (175°C) 60 to 70 minutes or until thermometer registers 135°F (60°C). (Steam may cause salt crust to crack slightly during roasting.)
Remove from oven; let stand 15 minutes. Remove and discard salt crust. Carve thinly.
Makes 8 to 10 servings.
Tip: This preparation can easily be adapted to other roasts as well.
Recipe and photograph courtesy of The Beef Checkoff.