Savory Roasted Prime Rib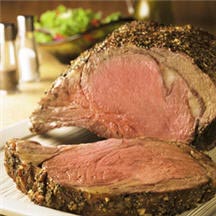 This quickly-marinated roast is bathed in a savory blend of thyme and garlic. Cooked to medium-rare, prime rib is always a favorite entrée. Serve with generous portions of horseradish, sour cream and chives.
Recipe Ingredients:
Approximately 8 pounds beef rib roast, bone-in
6 cloves garlic, minced
2 tablespoons olive oil
2 teaspoons salt
2 teaspoons ground black pepper
2 teaspoons dried thyme
Cooking Directions:
Place roast in a roasting pan, ribs down. Combine garlic, olive oil, salt, pepper and thyme in a small bowl. Mix well. Spread mixture across the layer of fat on the roast and let sit at room temperature for 1 hour.
Preheat oven to 500°F (260°C).
Roast beef in the center of oven for 20 minutes. Decrease temperature to 325°F (160°C) and continue roasting for 1 to 1 1/4 hours longer until a meat thermometer inserted into the center registers 145°F (60°C) for medium rare.
Allow to sit 10 to 15 minutes before carving meat from the bone and slicing.
Makes 8 servings.
Recipe and photograph provided courtesy of the Beef Industry Council.