Top of the Morning Muffins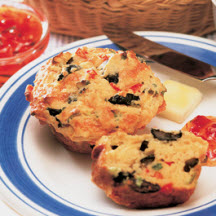 Recipe courtesy of California Ripe Olives.
Recipe Ingredients:
1/3 cup unsalted butter
1 cup (1/4-inch) diced red bell peppers
2/3 cup sliced green onions
1 cup California Ripe Olives, wedged
1 cup (4-ounce) grated cheddar cheese
1 cup buttermilk
1 large egg, beaten
2 cups all-purpose flour
1 1/2 tablespoons granulated sugar
1 1/2 teaspoons baking powder
1/2 teaspoon baking soda
1/8 teaspoon kosher salt
Cooking Directions:
Preheat oven to 400°F (205°C).
Melt butter in a medium-sized sauté pan over medium heat. Add red peppers and cook for 3-4 minutes until soft, stir in green onions, then pour into a medium-sized mixing bowl to cool.
When peppers and green onions have cooled, mix in California Ripe Olives, cheese, buttermilk and eggs. Set aside.
In a large mixing bowl, combine flour, sugar, baking powder, baking soda and salt.
Stir California Ripe Olive mixture into dry mixture until just combined.
Spoon batter into eight lightly greased standard (2 5/8-inch) muffin cups and bake for 25 to 28 minutes until lightly browned.
Transfer muffin pan to cooling rack and allow to cool for 5 minutes before serving.
Makes 8 muffins.
Nutritional Information Per Serving (1/8 of recipe): Calories: 297; Total Fat: 15g; Cholesterol: 63mg; Total Carbs: 31g; Fiber: 2g; Protein: 9g; Sodium: 479mg.
Recipe and photograph courtesy of California Ripe Olives.