Egg and Sausage Strata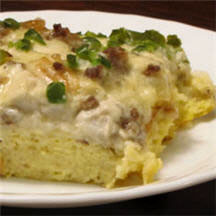 A country breakfast of scrambled eggs with cheese and diced bell pepper, sausage and 'biscuits and gravy' all rolled into one hearty casserole, it's the perfect recipe for breakfast when you have overnight guests. Prepare the casserole the night before and simply pop it in the oven the next morning. The use of English muffins for the 'biscuits' give the casserole a firmer, chewier texture.
Recipe Ingredients:
1 pound bulk breakfast sausage
1 (10.75-ounce) can condensed cream of mushroom or golden mushroom soup
1 cup sour cream
6 whole English muffins, crumbled
2 cups (8 ounces) shredded cheddar or Monterey Jack cheese (or a combination of both)
8 large eggs
2 1/2 cups milk
1 cup finely chopped green bell pepper
1/2 teaspoon kosher or sea salt
Freshly ground black pepper to taste
Cooking Directions:
Brown and drain sausage; set aside.
Mix soup and sour cream together; set aside.
Line a generously greased 16 x 11-inch baking pan with crumbled muffins.
Beat eggs, milk, bell pepper, salt and pepper together in a separate bowl; set aside.
Layer in pan 1/2 the cooked sausage, 1/2 the shredded cheese and 1/2 the soup mixture onto crumbled muffins. Repeat layers ending with soup mixture, then smooth with spatula.
Pour egg/milk mixture over all, slightly tilting to allow egg mixture to seep beneath the top layer of soup mixture. Cover with foil and refrigerate overnight.
Next day bake uncovered at 300°F (150°C) for 1 hour. Let cool for 5 minutes. Cut into squares and serve.
Makes 12 servings.
Nutritional Information Per Serving (1/12 of recipe): 391.9 calories; 60% calories from fat; 26.1g total fat; 197.5mg cholesterol; 794.3mg sodium; 332.4mg potassium; 19.0g carbohydrates; 1.0g fiber; 3.3g sugar; 18.0g net carbs; 19.5g protein.
Recipe by Hope Pryor; Photograph by Tiffany Hodges; copyright © 1999; property of CooksRecipes.com. See Terms of Use.