Italian Olive Frittata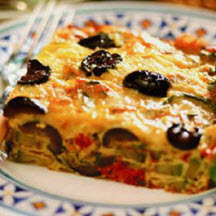 An easy, nutritious and delicious meatless dish your family will ask for again.
Recipe Ingredients:
6 large eggs, beaten
1/4 cup shredded basil
2 tablespoons low-fat milk
1/4 teaspoon kosher salt
1/8 teaspoon ground black pepper
2 teaspoons olive oil
2 cups halved and sliced zucchini (1/4-inch thick)
1 cup diced yellow onions (1/4-inch thick)
1 (6-ounce) can olives, drained and halved
1/2 cup roasted red bell peppers, sliced into 1/4-inch strips
1/2 cup grated fontina cheese ( may use provolone or Parmesan)
Cooking Directions:
In a medium sized mixing bowl whisk together eggs, basil, milk, salt and pepper. Set aside.
Heat olive oil in a 10-inch oven proof sauté pan over medium heat. Add zucchini and onions and cook for 5 to 6 minutes until tender. Mix in 1 cup of olives and roasted peppers, remove from heat and stir into egg mixture.
Pour egg and vegetable mixture back into pan, turn heat to medium-high and allow to cook for 3 to 5 minutes until eggs are set on the bottom. Sprinkle the top of the frittata with grated cheese and remaining olives and place into a 400°F (205°C) oven for 13 to 15 minutes until cooked through.
Cool slightly and cut into wedges.
Makes 4 servings.
Recipe and photograph courtesy of California Ripe Olives.