Muffin Frittatas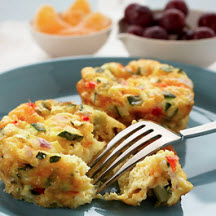 Recipe courtesy of the American Egg Board.
Recipe Ingredients:
6 large eggs
1/2 cup milk
1/4 teaspoon salt
1/8 teaspoon ground black pepper
1 cup shredded cheddar cheese (4 ounces)
3/4 cup chopped zucchini
1/4 cup chopped red bell pepper
2 tablespoons chopped red onion
Cooking Directions:
Preheat oven to 350°F (175°C).
Beat eggs, milk, salt and ground black pepper in medium bowl until blended. Add cheese, zucchini, bell pepper and onion; mix well.
Spoon evenly into 12 greased muffin cups, about 1/4 cup each.
Bake in 350°F (175°C) oven until just set, 20 to 22 minutes.
Cool on rack 5 minutes. Remove from cups; serve warm.
Makes 6 servings; 12 muffin frittatas.
Quick Breakfast Solution: Bake muffin frittatas the night before and refrigerate. Quickly re-warm in the microwave in the morning.
Lighter Option: Recipe can be made with reduced-fat cheese, if desired.
Nutritional Information Per Serving (2 mini frittatas): Calories: 163; Total Fat: 12g; Saturated Fat: 6g; Cholesterol: 233mg; Total Carbs: 3g; Fiber: 0g; Protein: 12g; Sodium: 294mg.
Recipe and photograph courtesy of the American Egg Board.