Mushroom and Smoked Salmon Frittata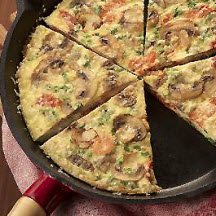 Recipe courtesy of the Mushroom Council.
Recipe Ingredients:
1 tablespoon light butter
8 ounces white button or crimini mushrooms, thinly sliced
1/4 teaspoon salt
1/4 teaspoon ground black pepper
3 large eggs
6 large egg whites
1/3 cup green onions, thinly sliced
12 ounces smoked salmon, chopped
2 tablespoons freshly grated Parmesan cheese
Cooking Directions:
Preheat oven to broil with top rack about 4-inch from broiler.
Heat a 10-inch nonstick, oven-proof skillet over medium high heat. Melt butter until foamy. Add a single layer of mushrooms and cook, without stirring, for about 5 minutes, or until mushrooms become red-brown on one side. Season with salt and pepper. Flip and cook about 5 minutes more, until other side is same color. Reduce heat to medium low.
In a large bowl, whisk eggs until frothy and add onions. Pour over mushroom mixture and stir once or twice to combine, gently lifting set eggs from bottom of the pan, letting the loose mixture set on the bottom. Add smoked salmon. Cover and continue to cook, without stirring, for 5 minutes, until eggs are set. Sprinkle with cheese and place pan under broiler until cheese melts, about 2 minutes.
Remove pan from oven, place a plate over the pan. Quickly turn the frittata onto the plate. Cut into wedges and serve.
Makes 6 servings.
Tips:
To save money, purchase "lox trimmings" which are available at most major grocery stores.
This recipe also works well as a mushroom only frittata. Substitute 3/4 cup shredded Swiss or herbed cream cheese for the smoked salmon.
Nutritional Information Per Serving (1/6 of recipe): Calories: 280; Calories From Fat: 100; Total Fat: 11g; Saturated Fat: 4g; Cholesterol: 195mg; Total Carbs: 2g; Fiber: 1g; Sugar: 1g; Protein: 43g; Sodium: 260mg.
Recipe and photograph courtesy of the Mushroom Council.