Rice Crêpes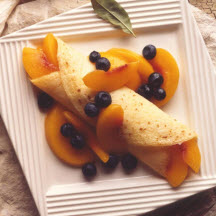 Rice is nice, especially when it's a part of a tasty recipe like this one for rice crêpes, filled with creamy rice pudding, fresh fruit and a sprinkling of powdered sugar.
Recipe Ingredients:
3 cups fresh cooked rice, cooled but not cold
4 large eggs
2/3 cup evaporated milk
1 tablespoon butter or margarine, melted
1/2 cup all-purpose flour
1 tablespoon granulated sugar
2 cups milk
1/3 cup granulated sugar
1 teaspoon vanilla extract
Vegetable cooking spray
2 1/2 cups fresh fruit (sliced peaches, strawberries, raspberries, blueberries, etc.)
Powdered sugar for sprinkling
Cooking Directions:
In a saucepan, combine eggs, evaporated milk, and melted butter in a small bowl. Stir in flour and sugar until smooth and blended. Stir in 1 cup cooked rice; let batter stand for 5 minutes.
Meanwhile, heat 2 cups of the cooked rice, milk, and sugar in a saucepan over medium heat, stirring frequently, until thick and creamy, about 15 minutes. Do not boil. Remove from the heat and add vanilla; set the pudding aside.
Heat a non-stick skillet and coat with vegetable cooking spray. Using about 1/4 cup of the batter, cook quickly, tilting the pan and swirling to make a thin pancake. Cook until the surface is dry, about 45 seconds. Turn and cook another 15 seconds. Repeat until all the batter is used.
Spoon the rice pudding into the center, top with fruit and roll up. Sprinkle with powdered sugar.
Makes 6 servings.
Recipe and photograph provided courtesy of USA Rice Federation.