Red Ribbon Coffee Cake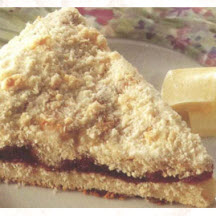 Enjoy this crumb-topped coffee cake, with a lovely ribbon of red cranberry sauce running through the center, with steaming cups of robust coffee or fragrant tea.
Recipe Ingredients:
Topping:
1/4 cup all-purpose flour
2 tablespoons granulated sugar
1 tablespoon butter
Batter:
2 cups all-purpose flour
3/4 cup granulated sugar
1 1/2 teaspoons baking powder
1/2 cup butter
1 large egg, beaten
1 teaspoon vanilla extract
3/4 cup milk
1 (16-ounce) can Ocean Spray® Jellied Cranberry Sauce
Cooking Directions:
Preheat oven to 350°F (175°C). Grease a 9 1/4-inch quiche pan.
Combine topping ingredients in a small mixing bowl. Using a pastry blender or fork, work butter into dry ingredients until butter is the size of small peas. Set aside.
Combine the dry ingredients for the batter in a medium mixing bowl. Using a pastry blender or fork, work butter into dry ingredients (see topping). Combine liquid ingredients in a separate mixing bowl. Add to flour mixture, mixing just until the dry ingredients are moist.
Spread half of the batter into pan. Place cranberry sauce in small bowl and beat with a fork until smooth. Spread over batter. Dollop remaining batter over top. Gently spread with a rubber scraper. Sprinkle topping over coffee cake.
Bake for 45 minutes or until a wooden pick inserted into the center comes out clean.
Makes 9 servings
Nutritional Information Per Serving (1/9 of recipe): Cal. 389, Total Fat 13grams, Saturated Fat 8grams, Protein 5grams, Carb. 63grams, Chol. 58mg, Dietary Fiber 2grams, Sugar 33grams, Vit. A 135RE, Folate 12Ug, Vit. E <1mg, Vit. C <1mg, Sodium 234mg, Pot. 72mg, Iron 1.5mg, Calcium 81mg, Zinc <1mg.
Recipe and photograph provided courtesy of Ocean Spray Cranberries, Inc.