Sherry-Almond Cake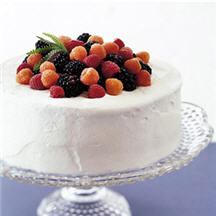 Cream sherry adds extraordinary flavor to this tender sponge cake and the whipped cream topping. Or, if you prefer, you can substitute milk or orange juice for the sherry in the cake.
Recipe Ingredients:
4 large egg yolks
1/3 cup dry or cream sherry
2/3 cup granulated sugar
2/3 cup all-purpose flour
1/4 cup ground toasted almonds
4 large egg whites
1/2 teaspoon cream of tartar
1/3 cup granulated sugar
1/2 cup seedless red raspberry or strawberry preserves
1 cup whipping cream
1 tablespoon granulated sugar
1 tablespoon dry or cream sherry
1 cup fresh raspberries and/or blackberries
Lavender sprig for garnish (optional)
Cooking Directions:
Beat egg yolks in a medium mixing bowl with an electric mixer on high speed about 6 minutes or until yolks are thick and lemon-color. Add the 1/3 cup sherry. Beat on low speed until combined. Gradually add the 2/3 cup sugar, beating on medium speed about 5 minutes or until sugar is almost dissolved and mixture has almost doubled in volume. Fold flour into egg yolk mixture about half at a time. Fold in ground almonds.
Thoroughly wash beaters. Beat egg whites and cream of tartar in a large mixing bowl on medium to high speed until soft peaks form (tips curl). Gradually add the 1/3 cup sugar, about 1 tablespoon at a time, beating on medium to high speed until stiff peaks form (tips stand straight).
Fold about 1 cup of the egg white mixture into the egg yolk mixture. Then fold all of the egg yolk mixture into the remaining egg white mixture. Pour batter into two ungreased 8x1-1/2-inch round baking pans. Bake in a 325°F (160°C) oven about 25 minutes or until the cake tops spring back when lightly touched in the center.
Invert onto racks ( leave in pans); cool. Remove from pans.
To assemble, place first cake layer on a large serving plate. Spread top with raspberry or strawberry preserves. Top with remaining cake layer.
Combine whipping cream, the 1 tablespoon sugar, and the 1 tablespoon sherry in the chilled bowl. Beat on low speed until soft peaks form. Spread on top and sides of cake. Cover and chill 1 to 2 hours. Just before serving top with berries and, if desired, garnish with a lavender sprig.
Makes 12 servings.
Nutritional Information Per Serving (1/12 of recipe): Calories 253, Total Fat (g) 11, Saturated Fat (g) 5, Cholesterol (mg) 98, Sodium (mg) 33, Carbohydrate (g) 34, Fiber (g) 1, Protein (g) 4, Vitamin A (DV%) 8, Vitamin C (DV%) 6, Calcium (DV%) 3, Iron (DV%) 4, Percent Daily Values are based on a 2,000 calorie diet.
Recipe provided by Better Homes and Gardens - BHG.com a member of the Home and Family Network for the best of cooking, gardening, decorating and more. © 2003 Meredith Corporation. All Rights Reserved.