Cheesy Chicken & Broccoli Bake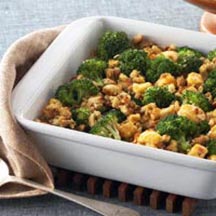 This quick, easy and nutritious chicken, broccoli and stuffing casserole is a real family-pleaser. Your family will ask you to make this dish again.
Recipe Ingredients:
1 (6-ounce) package STOVE TOP Stuffing Mix for Chicken
1 1/2 pounds boneless skinless chicken breasts, cut into bite-size pieces
1 (16-ounce) package frozen broccoli florets, thawed, drained
1 (10.75-ounce) can reduced-sodium condensed cream of chicken soup
1/2 pound (8 ounces) VELVEETA Pasteurized Prepared Cheese Product, cut into 1/2-inch cubes
Cooking Directions:
Preheat oven to 400°F (205°C). Prepare stuffing mix as directed on package; set aside.
Combine remaining ingredients; spoon into greased 13x9-inch baking dish. Top with stuffing.
Bake 40 minutes or until chicken is done.
Makes 6 servings, about 1 1/3 cups each.
Nutritional Information Per Serving (1/6 of recipe): 460 calories, 20g total fat, 7g saturated fat, 100mg cholesterol, 1340mg sodium, 33g carbohydrate, 3g dietary fiber, 7g sugars, 37g protein, 35%DV vitamin A, 70%DV vitamin C, 40%DV calcium, 15%DV iron.
Dietary Exchanges (or Exchange Calculations) based on Exchange Lists for Meal Planning © 2003 by the American Diabetes Association and the American Dietetic Association.
Recipe and photograph provided courtesy of Velveeta.com, through ECES, Inc., Electronic Color Editorial Services.