Chicken Baked with Pumpkin and Peanuts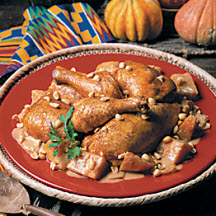 A flavorful and spicy African chicken casserole made with peanut butter, onion and chunks of pumpkin or butternut squash topped with chopped peanuts.
Recipe Ingredients:
2 to 3 pounds chicken pieces, both white and dark parts
2 large onions, cut into 1-inch chunks
1 pie pumpkin or butternut squash, about 2 pounds, peeled and cut into 2-inch chunks
3/4 cup peanut butter
1 teaspoon salt - divided use
1 teaspoon hot pepper sauce
1 1/2 cups chicken broth, heated
1/4 cup lemon juice - divided use
1/4 teaspoon ground black pepper
1/2 cup chopped peanuts
Cooking Directions:
Preheat oven to 400°F (205°C).
In a 13x9x2-inch baking dish, place onions and pumpkin (or squash).
In a medium bowl, stir together peanut butter, half of the salt and half of the hot sauce. Gradually stir in hot chicken broth, melting the peanut butter. Stir in half of the lemon juice. Pour over the squash and onions.
Place chicken on top of the vegetables. Sprinkle chicken with remaining salt, hot sauce and lemon juice. Sprinkle black pepper over chicken.
Bake for 1 hour, until squash is tender and fork can be inserted in chicken with ease.
Sprinkle with peanuts.
Makes 4 servings.
Recipe and photograph provided courtesy of the National Chicken Council. Used with permission.