Chicken Breast with Fennel & Tomatoes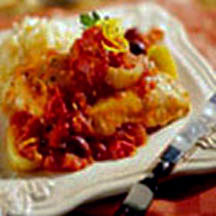 This Mediterranean chicken dish is fantastic served on a bed of orzo pasta sprinkled with feta cheese.
Recipe Ingredients:
3 tablespoons olive oil
4 chicken breasts split, boneless, skinless
1 teaspoon salt
1/4 teaspoon ground black pepper
1 tablespoon fennel seed, chopped
1/2 to 1 teaspoon crushed red chile flakes
2 tablespoons freshly minced garlic
3 cups (2 bulbs) fennel bulb, sliced 1/2 inch
6 cups tomatoes, diced
2 each lemons, zested and juiced
1 cup kalamata olives, pitted
2 tablespoons minced Italian parsley
Cooking Directions:
Heat olive oil in heavy saucepan. Season chicken breasts with salt and pepper. Sear chicken breast in oil until golden brown, about 3 to 5 minutes each side.
Add fennel seed, chile flakes and garlic. Cook for 1 minute, then add fennel bulb, tomato, lemon juice and zest. Stir, then cover pan. Reduce heat to medium, and cook for about 10 minutes until tomatoes have become saucy.
Stir in olives and parsley and continue to cook uncovered for 10 to 15 minutes. Sauce should be thick, and chicken should be cooked through. Adjust seasonings to taste.
Makes 4 servings.
Recipe and photograph provided courtesy of the California Tomato Commission.