Search for recipes throughout the entire site or select one of the recipe collections from the drop-down menu on the search tool below: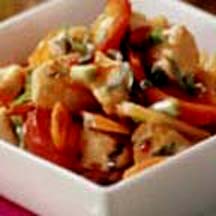 Sweet chili sauce complements the chicken in this Thai-inspired dish.
Thai Chicken with Sweet Chili Basil
1 cup MAGGI TASTE OF ASIA Sweet Chili Sauce
1/4 cup water
3 tablespoons MAGGI Seasoning Sauce
3 tablespoons fish sauce
4 teaspoons granulated sugar
2 tablespoons vegetable oil
1 pound boneless, skinless chicken breast halves, cut into 1/2-inch cubes
1 medium red bell pepper, seeded, cored and cut into thin strips
3 medium carrots, thinly sliced
1 can (8 ounces) bamboo shoots, drained
2 green onions, cut into 1-inch pieces
1 cup fresh basil, cut into strips
Hot cooked rice
Combine sweet chili sauce, water, seasoning sauce, fish sauce and sugar in small bowl; set aside.
Heat oil in wok or large, deep skillet over medium heat. Add chicken; stir-fry for 4 minutes or until chicken is no longer pink. Add bell pepper, carrots, bamboo shoots, green onions and chili sauce mixture.
Cook, stirring constantly, for 3 to 5 minutes or until vegetables are crisp-tender and sauce starts to thicken. Add basil; cook for 30 seconds or just until wilted. Serve over rice
Makes 4 servings.
Estimated Times:
Preparation Time: 15 mins
Cooking Time: 10 mins
Nutritional Information Per Serving (1/4 of recipe): Calories: 490 Calories from Fat: 80 Total Fat: 9 g Saturated Fat: 1.5 g Cholesterol: 65 mg Sodium: 3110 mg Carbohydrates: 67 g Dietary Fiber: 3 g Sugars: 40 g Protein: 31 g
Recipe and photograph are the property of Nestlé® and Meals.com, used with permission.
Recipe Reviews:
Rate and submit your comments about this recipe below.