Caramel and Chocolate Cracker Treats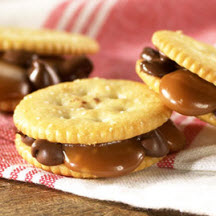 Making these irresistible sweet treats is as easy as 1-2-3!
Recipe Ingredients:
Lancaster Caramel Soft Cremes*
Round, buttery crackers*
Hershey's Milk Chocolate Chips*
Cooking Directions:
Preheat oven to 200°F (93.3°C). Remove wrappers from caramel candies. Cut each caramel into two equal pieces; set aside.
Line cookie sheet with parchment paper. For each cracker treat desired, place two crackers with bottom facing up on prepared cookie sheet. Place 3 caramel halves on one cracker and about 8 milk chocolate chips or 3 chocolates on the second cracker.
Heat in oven 5 minutes. Gently pick up cracker with chocolate pieces and press chocolate onto caramel topped cracker. Allow crackers to cool until chocolate is set.
Makes ? sandwich cookies.
*Each cracker treat will require 2 crackers, 1 1/2 caramel candies and about 8 milk chocolate chips.
Recipe and photograph provided by www.lancastercandy.com via Brandpoint Content; Copyright 1996-2014.