Chocolaty Caramel Thumbprints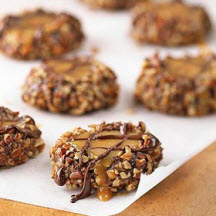 These decadent cookies are rolled in pecans, drenched with thick caramel, and topped with a chocolate drizzle. Whether you make these for family, friends, or a cookie exchange, they'll be sure to please!
Recipe Ingredients:
1 large egg
1/2 cup butter, softened
2/3 cup granulated sugar
2 tablespoons milk
1 teaspoon vanilla extract
1 cup all-purpose flour
1/3 cup unsweetened cocoa powder
1/4 teaspoon salt
16 vanilla caramels, unwrapped
3 tablespoons whipping cream
1 1/4 cups finely chopped pecans
1/2 cup (3 ounces) semisweet chocolate pieces
1 teaspoon vegetable shortening
Cooking Directions:
Separate egg; place yolk and white in separate bowls. Cover and chill egg white until needed. In a large mixing bowl beat butter with an electric mixer for 30 seconds. Add sugar and beat well. Beat in egg yolk, milk, and vanilla.
In another bowl stir together the flour, cocoa powder, and salt. Add flour mixture to butter mixture and beat until well combined. Wrap the cookie dough in plastic wrap and chill for 2 hours or until easy to handle.
Preheat oven to 350°F (175°C). Lightly grease a cookie sheet.
In a small saucepan heat and stir caramels and whipping cream over low heat until mixture is smooth. Set aside.
Slightly beat reserved egg white. Shape the dough into 1-inch balls. Roll the balls in egg white, then in pecans to coat. Place balls 1 inch apart on prepared cookie sheet. Using your thumb, make an indentation in the center of each cookie.
Bake for 10 minutes or until edges are firm. If cookie centers puff during baking, repress with your thumb. Spoon melted caramel mixture into indentations of cookies. Transfer cookies to wire racks; cool. (If necessary, reheat caramel mixture to keep it spoonable.)
In another saucepan heat and stir chocolate pieces and shortening over low heat until chocolate is melted and mixture is smooth. Let cool slightly. Drizzle chocolate mixture over tops of cookies.* Let stand until chocolate is set.
Makes 36 cookies.
*If desired, transfer the warm chocolate mixture to a resealable plastic bag. Cut a small hole in one corner of the bag. Drizzle cookies with chocolate mixture.
Recipe and photograph provided by Better Homes and Gardens - BHG.com a member of the Home and Family Network for the best of cooking, gardening, decorating and more. © Meredith Corporation. All Rights Reserved.