Italian Lemon Cookies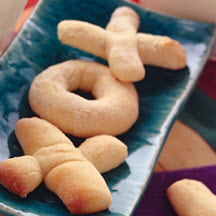 Recipe courtesy of The Incredible Edible Egg™.
Recipe Ingredients:
3 1/2 cups all-purpose flour
1/2 teaspoon baking soda
1/2 cup (1 stick) butter, cold
4 large egg yolks
1 cup granulated sugar
1/2 cup sour cream
2 to 4 tablespoons fresh lemon juice
2 to 4 teaspoons freshly grated lemon peel
Cooking Directions:
Mix flour and baking soda in large bowl; cut in butter with pastry blender until mixture resembles coarse crumbs.
Beat egg yolks and sugar in mixer bowl with whisk attachment at high speed until light and fluffy, 5 minutes.
Beat in sour cream, lemon juice and lemon peel. Add yolk mixture, 1/3 at a time, to flour mixture, stirring just until combined after each addition. Refrigerate, covered, until firm, 30 to 60 minutes.
Preheat oven to 350°F (175°C).
Work with 1/4 of the dough at a time, keeping remaining dough refrigerated. Roll pieces of dough on lightly floured surface into 6 x 1/2-inch ropes. Shape as desired; place on ungreased baking sheets.
Bake in 350°F (175°C) oven until lightly browned, 12 to 14 minutes Cool on baking sheets 5 minutes. Remove to wire racks; cool completely.
Makes 72 cookies.
Tips:
Shape this pliable dough into twists, knots, bows, wreaths or letters. Sprinkle with colored sugars or candy sprinkles before baking.
Chilled dough is easier to handle and holds its shape better.
Add lemon juice and peel according to personal taste. Remember to grate the peel before juicing the lemons.
Nutritional Information Per Serving (1/72 of recipe): Calories: 50; Total Fat: 2g; Saturated Fat: 1g; Cholesterol: 16mg; Total Carbs: 8g; Fiber: 0g; Protein: 1g; Sodium: 10mg.
Recipe and photograph courtesy of The Incredible Edible Egg™.