Pink Grapefruit Mint Tea Tuiles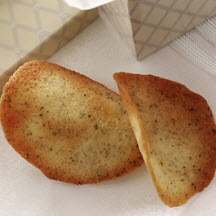 The zest of pink grapefruit and peppermint tea leaves gives these delicate cookies a burst of gourmet flavor sure to impress guests at teatime or anytime.
Recipe Ingredients:
3/4 cup granulated sugar
1 1/2 teaspoon freshly grated pink grapefruit zest (from about 1 grapefruit)
1 heaping teaspoon peppermint tea leaves (from about 1 tea bag)
3 large egg whites
1/2 cup (1 stick) unsalted butter, melted and cooled
1/2 cup all-purpose flour
1/4 teaspoon salt
1/2 teaspoon pure vanilla extract
1/4 teaspoon peppermint extract
Cooking Directions:
Combine the sugar, grapefruit zest and peppermint tea leaves in the work-bowl of a food processor fitted with the metal blade. Pulse until the zest and tea are fully incorporated into the sugar.
In a medium bowl, whisk together the egg whites and flavored sugar until well combined. Don't beat in any air or make the whites foamy. Add the melted butter and whisk until incorporated. Add the flour, salt, vanilla, and peppermint extract, and whisk until smooth. Cover with plastic wrap and refrigerate for at least 4 hours and up to 10 days.
Preheat the oven to 350°F (175°C). Line a baking sheet with a silicone non-stick baking mat (or with parchment paper sprayed generously with pan spray).
Spoon a tablespoon of batter on the baking sheet. Using the back of the spoon, spread the batter as evenly and thinly as possible into a 4 to 4 1/2-inch circle (the batter will not spread much during baking).
Bake until golden brown all over, 8 to 10 minutes. Remove the pan from the oven and immediately start to slide a thin metal spatula under the edge of one cookie. In about 10 seconds, the cookie will hold together enough for you to slide it off the sheet. Immediately lay the cookie over a rolling pin, juice bottle, or other cylindrical shape and leave it to cool. Quickly repeat with the remaining cookies. If the cookies begin to cool and crisp, return the pan to the oven for a few seconds to warm and soften.
Let the baking sheet cool between batches, or use a second baking sheet lined with a silicone baking mat (or well-greased parchment paper).
Makes 2 1/2 to 3 dozen cookies.
Recipe and photograph provided courtesy of Wisconsin Milk Marketing Board, Inc.