Apple and Aged Cheddar Bread Pudding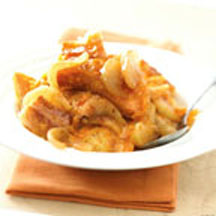 Warm, homespun bread pudding, one of the classic comfort foods. Created by Chefs Greg and Mary Sonnier of The Uptowner Special Events and Catering, New Orleans.
Recipe Ingredients:
Custard:
4 whole eggs
4 egg yolks
2 tablespoons granulated sugar
2 teaspoons pure vanilla extract
1/4 teaspoon salt
3 cups whole milk
1 cup heavy cream
7 cups day-old French bread, cut in 1 1/2-inch cubes
Apples:
4 cups Granny Smith apples, peeled and sliced
2 tablespoons lemon juice
1/2 cup (1 stick) butter
1/2 cup granulated sugar
1/2 cup light brown sugar, firmly packed
1 1/2 teaspoon ground cinnamon
1/4 teaspoon ground cayenne pepper
2 cups (8 ounces) Wisconsin Aged Cheddar cheese, grated - divided use
Cooking Directions:
For Custard: In large bowl, whisk together the eggs, egg yolks, sugar, vanilla and salt. Stir in milk and cream. Add bread and press down, making sure all of the bread is covered by the custard. Allow bread to soak while cooking the apples.
For Apples: Toss apples with lemon juice. In large skillet, melt butter over medium heat. Add apples, sugar, brown sugar, cinnamon and cayenne pepper. Cook until apples are slightly tender, eight to 10 minutes, stirring frequently. Cool 20 minutes.
Final Preparation: Preheat oven to 325°F (160°C). Generously butter a 9-by-13-inch casserole dish. Pour half of the bread mixture into the dish. Top with half the cooked apple mixture, then with one cup of Cheddar cheese. Repeat layering with remaining ingredients. Cover casserole with waxed or parchment paper, then cover dish tightly with foil. Bake in water bath for 60 minutes. Remove foil and paper; return to oven. Increase oven temperature to 350°F (175°C). Continue to bake in water bath for 25 to 35 minutes more or until browned and puffed, and a butter knife inserted near center comes out clean. Remove from oven and allow to rest 20 minutes before serving. Sprinkle top with cinnamon and cayenne pepper, if desired.
Makes 8 to 10 servings.
Recipe and photograph provided courtesy of www.WisDairy.com; through ARAcontent.