Blueberry Almond Crépes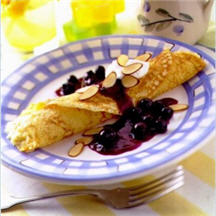 These elegant orange-scented blueberry almond crépes can be made-ahead. Recipe created by Chef Lesley Marquis of the Rosewood Country Inn in New Hampshire.
Recipe Ingredients:
Filling:
1 (16-ounce) container cottage cheese
2 egg yolks
3 tablespoons granulated sugar
1 tablespoon grated orange peel
1/2 cup chopped blanched almonds
Blueberry Sauce:
1/2 cup granulated sugar
2 tablespoons cornstarch
2/3 cup orange juice
4 cups fresh or frozen blueberries
Crépes:
4 eggs
1 cup flour
1 cup milk
1 tablespoon light brown sugar
1/4 teaspoon almond extract
Non-stick cooking spray
1/2 cup toasted sliced natural almonds
Cooking Directions:
For Filling: In a blender container, place cottage cheese, egg yolks, 3 tablespoons sugar and orange peel; whirl until well combined. Add chopped almonds; whirl until smooth; set aside.
For Blueberry Sauce: In a saucepan combine the remaining 1/2 cup sugar and the cornstarch. Stir in orange juice and blueberries. Over medium-high heat, bring to a boil, stirring constantly; cook and stir until thickened and clear, about 1 minute.
For Crépes: In a blender container, place eggs, flour, milk, brown sugar and almond extract. Whirl until smooth. Spray crépe pan with non-stick cooking spray; heat over medium heat until hot. Add about 3 tablespoons batter to pan, tilting to make an even layer. Cook on one side until crépe begins to brown, about 1 minute. Place on a sheet of waxed paper, browned side up. Repeat with remaining batter; layering the crépes with waxed paper.
To assemble: Place 2 rounded tablespoons of filling on each crépe. Roll and place on a lightly greased baking sheet. Cover and refrigerate until ready to serve.
At serving time: Preheat oven to 300°F (150°C). Bake filled crépes until hot, about 15 minutes. Top with blueberry sauce, sprinkle with toasted almonds and, if desired, a dollop of sour cream.
Makes 18 dessert crépes.
Recipe and photograph are courtesy of the US Highbush Blueberry Council. Used with permission.