Fruit & Veggie Frozen Pops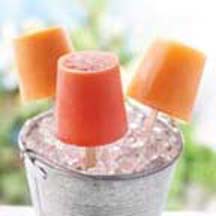 With some adult supervision, kids will have fun making—and eating—these cool, yummy treats!
Recipe Ingredients:
4 cups Ocean Spray® 100% Juice or Light Juice Drink Fruit & Veggie Cranberry Strawberry Banana or Tropical Citrus
8 (5-ounce) paper cups
8 (6-inch) squares of heavy-duty foil
8 wooden craft sticks
Cooking Directions:
Pour 1/2 cup juice into each paper cup.
Place foil over tops of cups; press and form around cups so top is tight.
With sharp knife, cut a small slit in center of foil on each; carefully insert sticks in each so it is standing up straight.
Place cups on tray or baking sheet with sides. Place flat in freezer. Freeze overnight or until solid.
To serve, remove foil; warm cups slightly with hands to lift out, or peel paper from frozen pops.
Makes 8 pops.
Recipe and photograph provided courtesy of Ocean Spray; through ECES, Inc., Electronic Color Editorial Services.