Search for recipes throughout the entire site or select one of the recipe collections from the drop-down menu on the search tool below: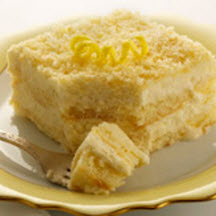 Lemon lover's rejoice! Here's the perfect 'tiramisu' just for you!
Lemon Mascarpone Tiramisu
1/4 cup fresh lemon juice
1/2 cup plus 3 tablespoons confectioners' (powdered) sugar - divided use
1/4 to 1/3 cup cream sherry or 1 1/2 teaspoons sherry extract, optional
2 (3-ounce) packages soft ladyfingers
1 cup whipping cream
8 ounces Wisconsin Mascarpone Cheese
1 teaspoon pure vanilla extract
1 (10 to 11 1/4-ounce) jar lemon curd
1/2 cup lemon yogurt, preferably whole milk
Combine lemon juice and 3 tablespoons confectioners' sugar in small bowl. Stir to dissolve sugar. Add sherry, if desired.
Reserve three (doubled) lady fingers for garnish.
Brush bottom of 8-inch square glass dish lightly with lemon juice mixture; place one layer of split ladyfingers, cut side up, over bottom of dish. Brush with half of lemon juice mixture.
In large mixer bowl, beat cream until soft peaks form. Beat in 1/4 cup of remaining confectioners' sugar; set aside.
Place cheese in mixer bowl, stir until softened. Gradually beat in remaining 1/4 cup confectioners' sugar and vanilla. Beat just until light and fluffy.
Fold whipped cream into cheese mixture with rubber spatula; set aside.
Beat lemon curd and yogurt on medium speed of electric mixer until blended.
Spread half of lemon curd mixture over ladyfingers; top with half of cheese mixture. Place another layer of ladyfingers, cut side up over cheese mixture. Brush with remaining lemon juice mixture. Layer with remaining lemon curd and cheese mixtures.
Place reserved ladyfingers in food processor or blender; process to fine crumbs and sprinkle over tiramisu.
Cover and chill at least 6 hours.
Makes 6 to 8 servings.
Recipe and photograph provided courtesy of Wisconsin Milk Marketing Board, Inc.
Recipe Reviews:
Rate and submit your comments about this recipe below.