Mint Chocolate Chip Ice Cream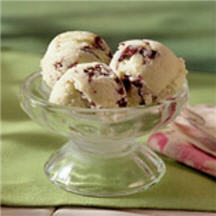 Low-fat evaporated milk gives extra richness and creaminess to this low-fat ice cream. Use a small ice-cream scoop to make several tiny scoops for a dainty ice-cream dish. It will trick you into thinking you are having a lot.
Recipe Ingredients:
3/4 cup granulated sugar
1 envelope unflavored gelatin
1 (12-ounce) can evaporated low-fat milk
1 large egg white
1 large egg
2 1/2 cups fat-free milk
1 tablespoon white creme de menthe or a few drops mint extract
2 teaspoons vanilla extract
Several drops green food coloring (optional)
1 1/2 ounces semisweet chocolate, chopped
Cooking Directions:
In a large saucepan stir together the sugar and gelatin. Stir in evaporated milk. Cook and stir over medium heat until sugar and gelatin dissolve and mixture almost boils. Remove from heat.
In a small bowl slightly beat the egg white and egg. Stir about 1/2 cup of the hot gelatin mixture into the egg mixture; return all to saucepan. Cook and stir over low heat for 2 minutes more. Do not boil. Stir in the fat-free milk, creme de menthe or mint extract, and vanilla. Cover and refrigerate for 1 hour.
If mixture isn't smooth, strain mixture. Stir food coloring into mixture, if desired. Stir in chopped chocolate. Freeze mixture in a 4 or 5-quart ice-cream freezer according to manufacturer's directions.
Makes 14 (1/2 cup) servings.
Note: Homemade ice cream tastes better and melts more slowly if it is ripened before serving. To ripen ice cream in a traditional-style ice cream freezer, after churning, remove the lid and dasher and cover the top of the freezer can with waxed paper or foil. Plug the hole in the lid with a small piece of cloth; replace the lid. Place the outer freezer bucket with enough ice and rock salt to cover the top of the freezer can, using 4 cups ice to 1 cup salt. Ripen about 4 hours. When using an ice-cream freezer with an insulated can, after churning, remove dasher; replace lid. Cover the lid with ice and cover with a towel. Ripen about 4 hours.
Nutritional Information Per Serving (1/14 of recipe): 106, total fat: 2g, saturated fat: 0g, cholesterol: 20mg, sodium: 45mg, carbohydrate: 18g, fiber: 0g, protein: 4g, starch: .5diabetic exchange, milk: .5 diabetic exchange.
Recipe provided by Better Homes and Gardens - BHG.com a member of the Home and Family Network for the best of cooking, gardening, decorating and more. © 2003 Meredith Corporation. All Rights Reserved.