Orange Crêpes with Fruit Filling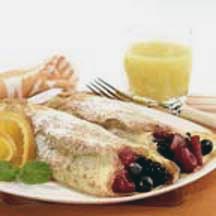 Citrus-scented, tender crêpes filled with a lovely assortment of fresh berries and topped with sweetened whipped cream or a light dusting of powdered sugar. Versatilely wonderful for breakfast or as dessert.
Recipe Ingredients:
Crêpes:
4 large eggs
3/4 cup orange juice
1 tablespoon granulated sugar
1/8 teaspoon salt
7 generous tablespoons all-purpose flour
Fruit filling:
1 cup fresh blueberries
1 cup fresh raspberries
1 cup fresh quartered strawberries
1 cup fresh blackberries
Whipped cream (optional)
Powdered sugar (optional)
Cooking Directions:
In a blender container, place eggs, orange juice, sugar and salt. Cover and pulse 15 seconds until combined.
While blender is on, add flour one tablespoon at a time until blended well. Refrigerate for 30 minutes.
Melt 1/2 tablespoon butter in a 10-inch nonstick sauté pan. Pour 3 tablespoons of batter into the pan and swirl around to coat the bottom of the pan evenly. Cook until edges are nice and brown and middle is firm to the touch. Loosen edges and flip crêpe and cool for approximately 15 seconds. Slide out of pan onto plate, cover with foil while continuing to make crêpes with remaining batter.
In a medium bowl, combine fruit with 1 tablespoon of sugar. Using a fork, crush the berries slightly to allow the juices to come out.
Place 2 crêpes on a plate. Ladle 1/4 cup of the fruit mixture on one side of each crêpe and roll crêpe over the fruit.
Garnish with fresh whipped cream or powdered sugar, if desired. Serve immediately.
Makes 12 servings.
Recipe created by Chef Scott Uehlein, corporate chef of Canyon Ranch Health Resorts and SpaClubs.
Recipe and photograph provided courtesy of the Florida Department of Citrus, through ECES, Inc., Electronic Color Editorial Services.