Strawberry Club Sandwiches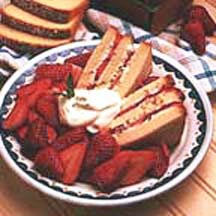 This layered strawberry dessert can also be served as a party hors d'œuvre.
Recipe Ingredients:
2 (3-ounce) packages light cream cheese, softened
2 tablespoons frozen orange juice concentrate, thawed
1 tablespoon honey
1/3 cup chopped toasted walnuts
1 ready-made pound cake loaf (approximately 12-ounces), thawed if frozen
2 pint baskets fresh California strawberries, washed and stemmed
1/2 cup whipping cream, whipped and lightly sweetened to taste
Mint sprigs for garnish (optional)
Cooking Directions:
In bowl beat cheese, concentrate and honey to blend; mix in nuts.
Cut cake into 12 equal slices.
Slice 1 basket of the strawberries.
Spread 4 slices of cake, on one side, with some of the cheese mixture. Top with half of the strawberry slices, dividing equally. Spread 4 more slices cake, on both sides, with more cheese mixture; place on first 4 cake slices. Cover with remaining sliced strawberries. Spread remaining cake slices, on one side, with remaining cheese mixture; place cheese-sides down on sandwiches. Cut diagonally into halves; skewer each with a sandwich pick.
Serve with remaining strawberries, halved. Dollop with whipped cream; garnish with mint sprigs.
Makes 4 servings.
Nutritional Information Per Serving (1/4 of recipe): 590 calories; 40 g fat; 180 mg cholesterol; 500 mg sodium; 12 g protein; 57 g carbohydrate.
Recipe and photograph provided courtesy of California Strawberry Commission. ©2003 California Strawberry Commission. All rights reserved. Used with permission.