Adrian Leon's Huitlacoche Quesadilla
(Mexican Mushrooms Quesadilla)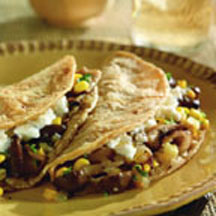 Huitlacoche is a Mexican delicacy and Chef Adrian Leon combines it with field and shiitake mushrooms, onions, garlic and corn to create a smoky-sweet filling for freshly made tortillas.
Recipe Ingredients:
Filling:
1 cup Splenda® Granulated No Calorie Sweetener
1/2 pound mushrooms (field and shiitake)
1 (7-ounce) can huitlacoche
1 medium white onion, finely chopped
1 tablespoon olive oil
1 tablespoon margarine
1 tablespoon finely chopped garlic
1 cup fresh corn kernels
1 teaspoon salt
1 teaspoon ground black pepper
3 tablespoons fresh parsley
3 tablespoons fresh cilantro
1 (12 ounce) container cottage cheese
Tortilla Dough:
3 cups masa-harina for tortillas
3/4 teaspoon salt
1 3/4 cups warm water
Cooking Directions:
For the Filling: Cook the onion with the oil and butter for 5 minutes in an 8 inch cast-iron frying pan over medium heat. Add garlic and cook for 3 minutes. Add mushrooms and huitlacoche and continue cooking for 7 minutes. Add Splenda® Granulated Sweetener and corn and cook for another 10 minutes.
Stir in salt, pepper, cilantro and parsley and set aside.
For the Masa: Preheat a 10-inch comal (griddle or cast-iron frying pan) over medium heat.
Mix masa-harina with salt and 1 3/4 cups of warm water to make soft but not dry dough. Divide the dough into 20 balls; shape each ball into a 5 inch long by 1 1/2 inches wide log.
Place a log between two sheets of plastic, put it in a tortilla press and press down. If you do not have a tortilla press, press with your hand and create an oval shape, turn it and press on the other side.
Remove the plastic and place over the preheated griddle. Cook for 2 to 3 minutes on each side or until it starts to brown and removes easily form the griddle without braking.
Top each tortilla with the filling and cheese, fold and serve.
Makes 10 servings.
Tip: Pre-made corn tortillas can also be warmed and filled in place of the fresh masa recipe.
Nutritional Information Per Serving (1/10 recipe or 2 quesadillas): Calories: 210; Calories from Fat: 50; Total Fat: 6g; Saturated Fat: 2g; Cholesterol: 5mg; Sodium: 570mg; Total Carbs: 32g; Dietary Fiber: 6g; Sugars: 2g.
Exchanges per Serving: 1/2 Medium Fat Meat, 2/3 Fat, 2 Starches.
Recipe and photograph courtesy of Splenda, Inc. Splenda® is a no-calorie sweetener made from sugar that is suitable for diabetics. For more information regarding this product, please call 1-800-777-5363 or visit their website at www.splenda.com.