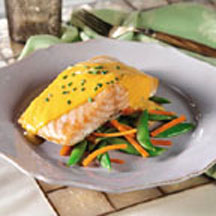 Fresh salmon fillets are baked on a bed of vegetables and topped with a fragrant ginger citrus sauce.
Baked Salmon with Orange-Ginger Sauce
2 1/2 inch piece fresh ginger root
1 cup fresh orange juice
1/4 cup SPLENDA® No Calorie Sweetener, Granulated
2 tablespoons fat-free half and half
1/4 teaspoon cornstarch
1/4 teaspoon salt (optional)
2 tablespoons unsalted butter, softened
2 cups frozen stir fry vegetable blend
2 (4 ounce) salmon fillets
Preheat oven to 450°F (230°C).
Make sauce. Peel ginger root and slice into 10 slices. Pour orange juice into a small saucepan. Add SPLENDA® Granulated Sweetener and ginger root. Bring to a rolling boil over medium high heat. Boil 10-12 minutes or until orange juice has reduced to approximately 2 tablespoons. Remove sauce from heat.
Remove ginger slices using a fork and discard. Set sauce aside.
Mix together the half and half, cornstarch and salt. Set aside. Whisk the softened butter, one Tbsp. at a time, into the 2 tablespoons of orange juice. Stir until melted. Add half and half mixture. Stir well. Place saucepan back on heat. Heat over medium- high heat until boiling.
Remove sauce from heat and mix in a blender 15-20 seconds or until smooth and lighter in color. Set aside.
Prepare salmon. Place vegetables in an 8x8 inch-baking pan. Place salmon fillets on top of the vegetables.
Bake in preheated oven 10 to 15 minutes or until cooked through, but still tender.
Place vegetables and salmon on serving plates. Pour sauce over salmon. Serve immediately. Serve with steamed rice, if desired.
Makes 2 servings.
Nutrition Info Per Serving (1/2 of recipe): Calories: 440; Calories from Fat: 180; Total Fat: 20g; Saturated Fat: 8g; Cholesterol: 95mg; Sodium: 440mg; Total Carbs: 38g; Dietary Fiber: 7g; Sugars: 14g; Protein: 30g;
Exchanges per Serving: 4 Lean Meats, 3 Fats, 1 Vegetable, 1 Fruit
Recipe courtesy of Splenda, Inc. Splenda® is a no-calorie sweetener made from sugar that is suitable for diabetics. For more information regarding this product, please call 1-800-777-5363 or visit their website at www.splenda.com.