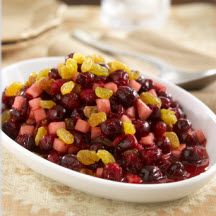 This tart and tangy relish is a wonderful side dish to serve along with roast turkey or ham during holiday meals.
Cranberry and Apple Relish
1 cup water
1/2 cup SPLENDA® No Calorie Sweetener, Granulated
1 (12 ounce) package fresh cranberries
1 cup peeled and chopped Granny Smith apples
1/2 cup cider vinegar
1/2 cup raisins
1/2 teaspoon ground cinnamon
1/4 teaspoon ground ginger
1/4 teaspoon ground allspice
1/8 teaspoon ground cloves
In a medium saucepan, combine the water and SPLENDA® Granulated Sweetener. Bring mixture to a boil. Stir in cranberries, apples, cider vinegar, and raisins. Season with cinnamon, ginger, allspice, and cloves. Bring to a boil, then simmer gently for 10 minutes stirring often.
Pour mixture into a mixing bowl. Place plastic wrap directly on the surface of the sauce. Refrigerate until ready to serve.
Makes 20 servings.
Nutritional Facts Per Serving: Calories: 25; Calories from Fat: 0; Total Fat: 0g; Saturated Fat: 0g; Cholesterol: 0mg; Sodium: 0mg; Total Carbs: 6g; Dietary Fiber: 1g; Sugars: 3g; Protein: 0g
Exchanges Per Serving: 1/2 Fruit
Recipe courtesy of Splenda, Inc. Splenda® is a no-calorie sweetener made from sugar that is suitable for diabetics. For more information regarding this product, please call 1-800-777-5363 or visit their website at www.splenda.com.