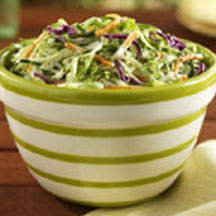 Low-sugar, sweet and creamy coleslaw.
Creamy Coleslaw
1 1/2 cups Hellmann's® low fat mayonnaise dressing*
1/3 cup SPLENDA® granular
3 tablespoons Vidalia onion, (or other sweet onion) finely chopped
2 teaspoons lemon juice
1 tablespoon white wine vinegar
1 1/4 teaspoon celery seed
3/4 teaspoon salt
1/4 teaspoon freshly ground black pepper
8 cups classic cole slaw cabbage mix (1 bag)
1/2 cup carrots, cut into matchsticks or shredded
Whisk all ingredients except cabbage mix and carrots in large bowl.
Add cole slaw mix and carrots.
Refrigerate for at least two hours. Mix and serve cold.
Makes 10 servings.
Nutrients Per Serving: Calories 50, Calories from fat 14, Carbohydrates 9 g, Protein 1 g, Dietary Fiber 1 g, Total Fat 1.5 g, Saturated Fat 0 g, Cholesterol 0 mg, Sodium 330 mg.

Diabetes Exchanges: 2 vegetable.
*Hellmann's® is a registered trademark of Best Foods.
Recipe and photograph courtesy of Splenda, Inc. Splenda® is a no-calorie sweetener made from sugar that is suitable for diabetics. For more information regarding this product, please call 1-800-777-5363 or visit their website at www.splenda.com.