Gale Gand's Deep Chocolate Shortbread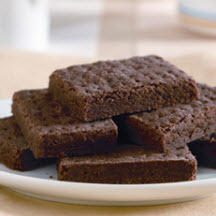 A bar cookie that is quite simply — heavenly!
Recipe Ingredients:
1 cup unsalted butter
1/2 cup Splenda® Granular
1/4 cup granulated sugar
1/2 teaspoon vanilla extract
1/4 teaspoon salt
6 tablespoons Dutch cocoa powder
1 3/4 cup plus 2 tablespoons all-purpose flour
Cooking Directions:
Preheat oven to 375°F (190°C). Line a cookie sheet or jelly roll pan with parchment paper. Set aside.
Place the butter, Splenda® Granular, sugar, vanilla and salt in a medium mixing bowl. Mix, using the paddle attachment of an electric mixer until the mixture is light and creamy (approximately 1 to 1 1/2 minutes). Add cocoa powder and flour. Mix until just blended.
Remove dough from bowl and form into a ball. Place the ball of dough on the parchment lined pan. Roll the dough into a rectangle approx. 6 1/2-inches wide by 11-inches long and 1/4-inch thick. Pierce the surface of the dough with a fork all over. This allows the air to escape during baking preventing air pockets from forming.
Bake in preheated oven 20 to 25 minutes, rotating the pan after 10 minutes of baking. Remove shortbread from oven after 20 to 25 minutes and immediately cut into 24 "fingers" or rectangles while the shortbread is still warm. If allowed to cool, shortbread will not slice well.
Makes 24 bar cookies.
Nutritional Information Per Serving (1/24 of recipe; 1 bar cookie): Total Calories 110, Calories from fat 70, Total fat 8 g, Saturated fat 5 g, Cholesterol 20 mg, Sodium 105 mg, Total Carbohydrate 10 g, Sugars 2 g, Dietary Fiber 0 mg, Protein 1 g.
Exchanges Per Serving: 1/2 starch, 2 fats.
Recipe and photograph courtesy of Splenda, Inc. Splenda® is a no-calorie sweetener made from sugar that is suitable for diabetics. For more information regarding this product, please call 1-800-777-5363 or visit their website at www.splenda.com.