Mama Mia's Hazelnut Biscotti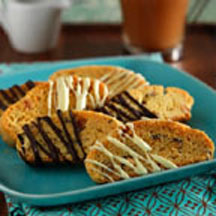 A combination of chopped hazelnuts and hazelnut syrup is used to make these scrumptious biscotti. They make ideal gifts.
Recipe Ingredients:
1/2 cup chopped hazelnuts
1/2 cup canola oil
2/3 cup Splenda® Granulated No Calorie Sweetener
3 tablespoons white granulated sugar
2 large eggs
3 tablespoons sugar-free hazelnut syrup
2 cups all-purpose flour
3/4 teaspoon baking powder
1/2 teaspoon baking soda
1/3 cup nonfat dry milk
2 tablespoons mini chocolate chips, melted (optional)
Cooking Directions:
Preheat oven to 350°F (175°C). Spray a cookie sheet or jellyroll pan with baking spray and set aside.
Spread hazelnuts in a shallow pan and toast in preheated 350°F (175°C) oven for 7 to 10 minutes. Remove hazelnuts from the oven and cool.
Mix the oil, Splenda® Granulated Sweetener and sugar together in a large mixing bowl. Add eggs, one at a time, mixing well after each addition. Add hazelnut syrup and mix well. Set aside.
Mix flour, baking powder, baking soda, and nonfat dry milk in a medium mixing bowl.
Pour the flour mixture into the oil and egg mixture and stir until blended. Add hazelnuts and mix until just blended. Refrigerate dough 1 hour or until stiff.
Divide dough in half. Roll each half into a log approximately 3 1/2-inches wide by 12 inches long. Place the logs on the prepared sheet 2 inches apart.
Bake in a preheated 350°F (175°C) oven for 20 to 25 minutes.
Remove from oven and cool for 5 minutes. Cut the loaves with a sharp knife into 48 slices, approximately 1/2-inch wide. Cool completely.
If desired, lay slices on their sides and drizzle with melted chocolate chips.
Store in airtight containers. Cookies will stay fresh up to 5 days.
Makes 48 cookies.
Nutritional Information Per Serving (1/48 of recipe; 1 cookie): Calories 60 | Calories from Fat 30 | Fat 3.5g (sat 0g) | Cholesterol 10mg | Sodium 30mg | Carbohydrates 6g | Fiber 0g | Sugars 2g | Protein 1g.
Recipe and photograph courtesy of Splenda, Inc. Splenda® is a no-calorie sweetener made from sugar that is suitable for diabetics. For more information regarding this product, please call 1-800-777-5363 or visit their website at www.splenda.com.