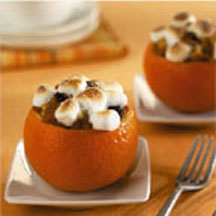 Serve as a side dish or dessert.
Sweet Potato Orange Cups
4 small oranges
2 small cooked and mashed sweet potatoes
1/4 cup SPLENDA® No Calorie Sweetener, Granulated
1/4 cup SPLENDA® Brown Sugar Blend
1 teaspoon cinnamon
1/4 teaspoon ground ginger
1 teaspoon orange juice
1/2 cup chopped apples
1/4 cup raisins
3/4 cup mini marshmallows
Halve oranges and squeeze over small bowl to loosen centers and extract juice. Place orange halves on baking sheet. Set juice aside.
Preheat oven to 325°F (160°C).
Mix potatoes, SPLENDA® Granulated Sweetener, SPLENDA® Brown Sugar Blend, cinnamon, ginger and orange juice together in a medium size bowl until well blended.
Stir in the chopped apples and raisins.
Spoon the potato mixture into the orange halves. Top with the mini marshmallows.
Place filled oranges on a baking sheet. Bake in preheated oven for 30 to 40 minutes or until marshmallows are lightly browned and center is warm.
Makes 8 servings.
Note: Recipe was a contest submission by Sallie C. from Cameron, NC.
Nutrition Information Per Serving: Calories: 120; Calories from Fat: 0; Total Fat: 0g; Saturated Fat: 0g; Cholesterol: 0mg; Sodium: 10mg; Total Carbs: 28g; Dietary Fiber: 2g; Sugars: 21g; Protein: 1g
Serving Size: 1 orange cup
Exchanges per Serving: 1 1/2 Starches
Recipe and photograph courtesy of Splenda, Inc. Splenda® is a no-calorie sweetener made from sugar that is suitable for diabetics. For more information regarding this product, please call 1-800-777-5363 or visit their website at www.splenda.com.