Cheesy Hashbrown Taco Dinner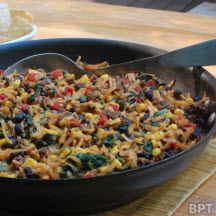 If eating spinach is a struggle in your family, try this easy recipe they're sure to love. It combines hashbrown potatoes with ground beef, cheddar cheese and an array of colorful vegetables.
Recipe Ingredients:
1 (4.2-ounce) carton Hungry Jack Cheesy Hashbrown Potatoes
1 pound lean ground beef or turkey
1/2 cup chopped onion
1 (1.25-ounce) package taco seasoning mix*
1 (16-ounce) package frozen chopped spinach
1 (14.5-ounce) can diced tomatoes
1 (15-ounce) can black beans, rinsed and drained
1 (15-ounce) can whole kernel corn, drained
1 cup shredded cheddar cheese
Tortilla chips or warmed tortillas for accompaniment (optional)
Cooking Directions:
Add hot water (minimum 120°F | 50°C) to level of fill line on hashbrowns carton. Close carton. Let stand 12 minutes.
Brown ground beef or turkey and onion in a large skillet over medium-high heat. Drain fat. Stir in seasoning mix.
Add spinach and stir until thawed.
Drain any excess liquid from hashbrowns carton. Stir hashbrowns, tomatoes, black beans, corn and spinach into beef. Cook until heated through, about 5 minutes.
Sprinkle cheese over top; cover and cook on low heat until cheese is melted, 3to 5 minutes. Serve as is with tortilla chips or wrap in a tortilla.
Makes 6 to 8 servings.
*Or substitute 4 teaspoons chili powder, 2 teaspoons ground cumin, 1 teaspoon garlic powder and 1/2 teaspoon salt.
Recipe and photograph provided by Hungry Jack Potatoes via Brandpoint Content; Copyright 1996-2014.