Search for recipes throughout the entire site or select one of the recipe collections from the drop-down menu on the search tool below: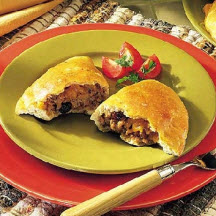 These savory and sweet empanadas are stuffed with a yummy combination of ground beef, cinnamon, almonds and raisins.
Empanadas
1/4 cup raisins
1 tablespoon apple cider vinegar
1 pound ground beef or turkey
1 small onion, chopped
2 cloves garlic, minced
1 (16-ounce) jar tomato salsa - divided use
1/4 cup slivered almonds
2 tablespoons packed brown sugar
1/2 teaspoon ground cinnamon
1/4 teaspoon salt
1/2 cup shredded mild cheddar cheese
1 pound frozen bread dough, thawed
1 large egg, lightly beaten
Preheat oven to 375°F (190°C).
Combine raisins and vinegar in small bowl; soak for 15 to 20 minutes or until raisins are plump.
Cook beef, onion and garlic in large skillet until beef is browned; drain. Add 1/2 cup salsa, almonds, raisins, sugar, cinnamon and salt. Bring to a boil. Cook for 3 to 4 minutes or until flavors are blended.
Divide dough into 6 pieces; roll into balls. On well-floured board, roll each ball into a 6-inch circle. Place 1/2 cup meat filling on bottom half of circle; sprinkle with cheese. Fold top half of dough over filling; crimp edges with tines of fork. Pierce top with fork. Place on greased cookie sheet; brush with egg.
Bake for 20 to 25 minutes or until golden. Serve with remaining salsa.
Makes 6.
Recipe and photograph are the property of Nestlé® and Meals.com, used with permission.
Recipe Reviews:
Rate and submit your comments about this recipe below.