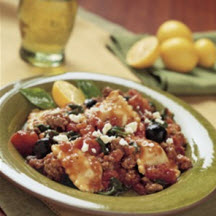 Cheese ravioli in a Greek-style tomato meat sauce with spinach, olives and crumbled feta cheese. A 2001 National Beef Cookoff category winner.
Greek-Style Beef & Cheese Ravioli
1 1/4 pounds lean ground beef
1 (9-ounce) package refrigerated cheese ravioli
2 (14 1/2-ounce) cans diced tomatoes with basil, garlic and oregano, undrained
2 cups lightly packed fresh baby spinach
1 cup pitted ripe olives
1/2 to 3/4 cup crumbled feta cheese
Fresh baby spinach for garnish
Cook ravioli according to package directions; drain.
Meanwhile brown ground beef in deep 12-inch nonstick skillet over medium heat about 8 minutes or until beef is not pink, breaking into crumbles.
Stir in tomatoes; bring to a boil. Reduce heat; simmer 3 minutes. Stir in ravioli. Stir in 2 cups spinach and olives; cook just until spinach is wilted. Sprinkle with cheese before serving. Garnish with remaining spinach. .
Serves 4.
Recipe and photograph provided courtesy of Texas Beef Council and Beef It's Whats For Dinner.