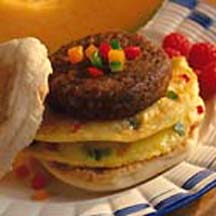 Make your own sausage for tomorrow's breakfast. Little cooks can mix seasonings and spices into the pork by hand (make sure hands are washed well before starting). Do not overmix. Serve patties with pancakes or in a breakfast sandwich.
Lean Homemade Sausage
1 pound lean ground pork
1/2 teaspoon ground rosemary
1/8 teaspoon ground thyme
1/8 teaspoon dried marjoram, crushed
1/8 teaspoon pepper
1/8 teaspoon salt
Combine all ingredients; mix well. Place in an air-tight container. Chill in the refrigerator 4 to 24 hours to allow flavors to blend.
Shape into 1/2-inch thick patties. In skillet cook patties over medium heat about 4 to 5 minutes on each side, or until done.
Serves 8.
To Broil: Place patties on an unheated rack in broiler pan. Broil 5 inches from heat about 5 minutes on each side.
Nutrition Facts: Calories 120 calories Protein 10 grams Fat 8 grams Sodium 65 milligrams Cholesterol 40 milligrams Saturated Fat 3 grams Carbohydrates 0 grams
Recipe and photograph provided courtesy of Pork, The Other White Meat.