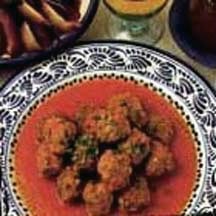 A south-of-the-border idea from Chef Miguel Ravago. Serve over hot cooked rice as a main dish or alone as a party appetizer.
Mexican Meatballs in Tomato and Chipotle Sauce
1 1/2 pounds lean ground beef
2 small zucchini squash
2 large eggs
1/2 teaspoon oregano
8 peppercorns
3/4 teaspoon salt
1/4 teaspoon cumin seeds
1/3 onion, chopped
2 pounds tomatoes
3 to 4 chipotle chile peppers en adobo (about 1/3 of a 7-ounce can)
3 tablespoons vegetable oil
3/4 cup beef broth
Salt, to taste
Chop the zucchini very finely and add to the ground beef. In blender, blend eggs with the oregano, peppercorns, salt, cumin seeds and onion. Combine with the beef and mix well. Make 24 meatballs, about 1 1/2 inches in diameter.
Cover the tomatoes with boiling water and cook for about 5 minutes. Drain and blend the cooked tomatoes with the chiles until smooth.
In a sauce pan, heat the oil and add the sauce. When it starts boiling, cook over high heat for about 5 minutes. Add the broth and bring to a simmer. Add the meatballs and bring to a simmer once again.
Cover and cook over low heat until the meatballs are done, about 50 minutes. Season and serve.
Serves 6.
Tip: For larger quantities, bake the meatballs at 375°F (190°C) on a baking sheet covered with parchment paper for about 15 to 20 minutes. Add the cooked meatballs to the sauce and cook another 15 to 20 minutes.
Recipe and photograph provided courtesy of Texas Beef Council and Beef It's Whats For Dinner.