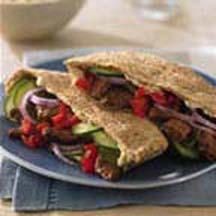 Pita bread makes the perfect container for almost any hand-held food including traditional hamburgers. A tangy and refreshing yogurt sauce completes this Greek-inspired meal.
Pita Burgers with Cucumber-Yogurt Sauce
1 pound lean ground beef
1/3 cup chopped unpeeled cucumber
1/2 cup plain low-fat yogurt
2 teaspoons pepper-herb mix (see below)
1/4 teaspoon salt
2 pita breads, halved
1 medium tomato, cut into 8 thin slices
Combine cucumber, yogurt, ½ teaspoon of the herb mix and salt in a small bowl; set aside.
Divide ground beef into 4 equal portions; shape into patties 4 inches in diameter. Sprinkle remaining 1½ teaspoons herb mix over both sides of patties.
Meanwhile, heat a large nonstick frying pan over medium heat for 5 minutes. Pan-broil patties 6 to 8 minutes, turning once. Season with salt, if desired.
Heat pita halves in toaster until lightly toasted. Place a beef patty in each pita half; add 2 tomato slices. Add cucumber sauce to serve.
Pepper-Herb Mix
2 tablespoons dried basil leaves
1 tablespoon lemon pepper
1 tablespoon onion powder
1 tablespoon dried savory leaves
1½ teaspoons rubbed sage
Combine all ingredients. Store, covered, in an airtight container. Shake before using to re-blend spices.
Makes 4 servings.
Recipe and photo courtesy of the Beef Industry Council.