Super Pork Burgers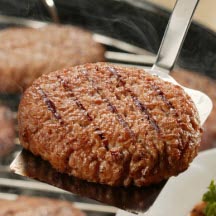 Give your family's burgers a super twist on flavor. These work for the broiler or on the grill. Serve on toasted whole wheat buns.
Recipe Ingredients:
1 (8-ounce) can crushed pineapple
3/4 pound fully cooked boneless smoked ham
3/4 pound ground pork
1/2 cup finely chopped green pepper
2 tablespoons all-purpose
1/4 teaspoon ground allspice
Cooking Directions:
Drain pineapple, reserving juice.
Coarsely chop the ham. Place ham in food processor bowl; process about 30 seconds or until coarsely ground. In a mixing bowl combine the pineapple, ground ham, ground pork, green pepper, flour and allspice. Shape into six (1/2-inch-thick) patties. Place patties on an unheated rack in a broiler pan. Broil 6 inches from heat about 8 minutes.
Meanwhile, in a small saucepan cook pineapple juice over medium heat until reduced by half. Brush the patties with half of the pineapple juice; turn and broil 6 minutes longer. Brush patties with the remaining pineapple juice.
Makes 6 servings.
Tip: Can also grill these burgers over direct heat for about 7 to 9 minutes per side.
Nutritional Information Per Serving (1/6 of recipe): Calories 245 calories Protein 20 grams Fat 13 grams Sodium 840 milligrams Cholesterol 67 milligrams
Recipe an photograph provided courtesy of Pork, Be Inspired®.