Black Cat Cheese Ball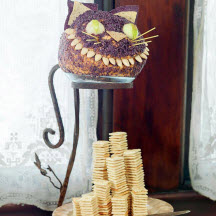 Your Halloween party guests will get wide grins on their own faces when they see this black cat on the table. Rolled in crushed blue tortilla chips, this grinning cat tastes as good as it looks. Make the cheese ball ahead so you have plenty of time to enjoy the compliments.
Recipe Ingredients:
4 (8-ounce) packages finely shredded cheddar cheese
3 (8-ounce) packages cream cheese
1/2 cup margarine or butter
2 tablespoons milk or dry white wine
1/4 cup finely chopped green onion
1/4 cup diced pimiento or finely chopped roasted red pepper
1 tablespoon Worcestershire sauce
4 cloves garlic, minced
Several dashes bottled hot pepper sauce
1 1/2 cups crushed blue tortilla chips
2 triangular blue tortilla chips
2 triangular white or yellow tortillas chips
1 small green apple, halved lengthwise
Lemon juice
1 square wheat cracker
6 (4-inch) pieces spaghetti
1 cup blanched almonds
Cooking Directions:
Bring the cheeses and margarine to room temperature. (Reserve 2 tablespoons of the cream cheese and set aside.) Add milk, green onion, pimiento, Worcestershire sauce, garlic, and hot pepper sauce; beat till combined. Cover and chill 4 to 24 hours.
Shape mixture into a ball; roll in crushed blue tortilla chips.
Press whole blue and white tortilla chips for ears.
Remove green apple skin except sliver of green in the center of each apple half forming the eyes. Brush with lemon juice. Make 2 indentations into the cheese ball for the eyes to rest in. Insert into the cheese ball with toothpicks on the flat side of apple halves.
Cut a triangle out of the square cracker. Attach to cheese ball with some of the reserved cream cheese for the nose.
Stick in the spaghetti pieces for cat whiskers.
Press in the blanched almonds forming a smiling cat face.
Can chill cat cheese ball in refrigerator several hours before serving. Let stand 15 minutes. Serve with crackers.
Makes ? servings.
Recipe and photograph provided by Better Homes and Gardens - BHG.com a member of the Home and Family Network for the best of cooking, gardening, decorating and more. © Meredith Corporation. All Rights Reserved.