Chocolate Chip Cookie Sleds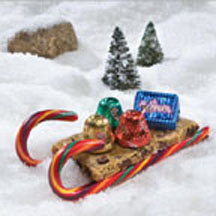 THE perfect wintertime 'baketivity' for kids. These chocolate chip cookie treats feature makeshift sled runners made out of candy canes. You can even decorate them with Santa's favorite candies! Make mini-sleds by using mini candy canes.
Recipe Ingredients:
1 (16.5-ounce) package NESTLÉ® TOLL HOUSE® Refrigerated Chocolate Chip Cookie Bar Dough*
1/3 cup ready-to-use white frosting
20 (5 1/4-inch) WONKA SweeTart Candy Canes
NESTLÉ and WONKA assorted Holiday Candy
Edible white glitter (optional)
Cooking Directions:
Preheat oven to 325°F (160°C). Grease or foil-line a large baking sheet.
Place whole bar of dough on prepared baking sheet. Allow to soften for 5 to 10 minutes. Using fingertips, pat dough gently to form an 11 x 8-inch rectangle.
Bake for 18 to 20 minutes or until light golden brown. Cool on baking sheet for 10 minutes; remove to wire rack to cool completely. Gently slide cookie onto cutting board. Trim edges of rectangle as needed.
Cut cookie into 4 x 2-inch rectangles, or to about the length of the candy canes you will be using. (Cut in half lengthwise and you should have 2 long rectangles that are 4 inches wide. Cut each long rectangle into 5 pieces. This should give you ten 4 x 2-inch rectangles.) Use about 1 teaspoon frosting on backside of cookies to attach candy canes (1 teaspoon per candy cane should do). Let stand for 30 minutes or until set. Once set, turn the sled over so the candy canes are on the bottom.
Sprinkle sled with glitter (to look like snow), if desired. Fill sled with candies.
Makes 10 sleds.
Tip: You can make mini-sleds by using mini candy canes and cutting cookies into smaller rectangles. Also, if you would like to personalize the sleds with your child's initial, pipe it on. Here's how: Add frosting to small plastic food storage bag, snip off tiny corner from bag and pipe initial onto cookie. Be sure to let it dry before adding any candy cargo!
*Or make a 1/2 batch of the pan version of homemade Original Nestle Toll House Chocolate Chip Cookies.
Recipe and photograph are the property of Nestlé® and Meals.com, used with permission.